Roomba has manufactured various types of robot vacuums, but if you are particularly interested incapable, powerful and long-lasting models, here is the right comparison (Roomba 805 vs 860) you will need. With quite the difference in price, you definitely want to know what makes one of them priced at almost twice of the other.
Let's look at the good features of both models that make them similarly enticing and attractive. Then, we will discuss the differences and strengths that each model possesses. Finally, we'll help you decide which is the better model for your home and family.
Other Related Comparison guides: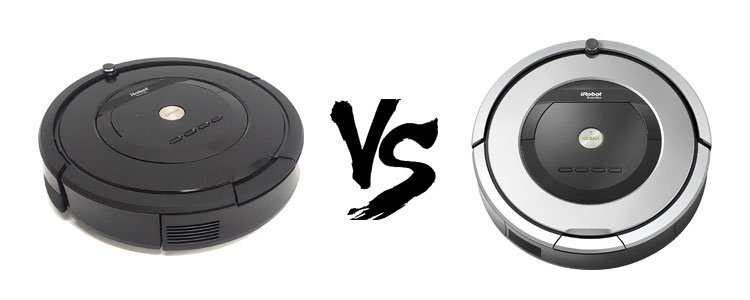 Similar Features Worth Nothing
The two models share many similar features as they both fall under the 800 series category. Here are some notable things about iRobot Roomba 805 and Roomba 860.
Features:

iAdapt Navigation: A technology that allows the unit to explore and clean the house while adapting to the constant change a normal household would have. The full suite sensors will detect objects and avoid them while continuing its thorough cleaning. The navigation also prevents the iRobot from tumbling off the stairs or the window.
AeroForce 3-Stage Cleaning System: It is a cleaning system invented by Roomba and is a more advanced version compared to their previous models.
Dual Mode Virtual Wall Barrier: Two small pillar-like objects that will keep your robot away from leaving the room you need a thorough cleaning at. This will prevent the unit from leaving a certain area, or cleaning places like an outdoor area or the occupied study room.
Highly Adaptable: It's not just the navigation system, but also its ability to work wonders on all kinds of floorings from tile to medium carpets. Pair this with the AeroForce technology and you will have an automatic robot vacuum that cleans any type of flooring without having to think about vacuuming any time soon.
3 Times Battery Life And Self-Docking: Both models use a Lithium-ion battery that lasts for 60 minutes of full operation and it is optimized in terms of battery life, so you don't have to charge as many times. Not to mention that they dock themselves to charge when needed.
Circular Shape: Both models employ the usual round shape which helps them navigate away easily from obstacles and are both small, making it easy to slip under sofas and furniture to perform a deep They are also both 3'6" tall.
Tangle-Free Extractor Plus Various Brushes: Keeps the mechanism inside civilized when you know hair is a situation in your household! They also come with various brushes to make sure that all kinds of floorings and corners are thoroughly cleaned.
Schedule Them Up to 7 Times: Another thing that many users seem to increasingly favor is the ability to tell the machine when they should start working without having a human to tell them all the time to. You can have it clean once every day when traffic is minimum at home or just press CLEAN whenever you need it to.
We have to say that while both models do not yet feature the availability to operate them remotely, these models are already good enough in terms of having minimal maintenance.
Differences Between Roomba 805 & 860
HEPA Filter: The HEPA filter is a feature that is possessed by only Roomba 860 model. The HEPA filter is definitely a deal-breaker for people will allergic issues or own pets that shed hair frequently. It is also one of the reasons that the 860 models is priced much higher than the other.
The Roomba 805 model is not equipped with a HEPA filter, although it is still quite a powerful cleaner for dust and dirt and filter down to 10 microns-sized particles.
Power Suction: In terms of power suction, Roomba 860 performs better than 805. The manufacturer takes pride in boasting of the 5x more powerful suction power of 860.
Clean an area Repeatedly: Roomba 860 is designed to clean an area repeatedly when necessary which is a feature we didn't know we needed. This overcomes the weakness robot vacuum cleaner has when it comes to weak suction ability due to their limited size. Roomba 805 doesn't come with this feature.
Weight: Both models weigh almost similar to Roomba 860 weighs slightly less than 805. Roomba 860 is exactly 8 pounds while 805 is 8.4 pounds.
Design: Appearance-wise Roomba 805 has a solid black look while 860 is decorated with silver finishing on the top, making it look more elegant and sophisticated.
Price: Obviously, the price is a big key factor in making your decision. Roomba 805 has a list price of $399 with Roomba 860 at $550. There is a discount happening right now for Roomba 805 on Amazon.
Which One Is Better? (Roomba 805 vs 860)
Both models are pretty similar in basically every feature they have from shape to various features available. The biggest difference lies in the cleaning performance as well as the additional HEPA filter in Roomba 860. If we are talking about performance, Roomba 860 is definitely winning in terms of suction power, thorough cleaning ability as well as being equipped with a HEPA filter.
If you have read that Roomba 860 doesn't work well with brushing wall edges, don't forget that the unit comes with the brush to do the job. Just switch the brush and tap the CLEAN button. If your household owns a pet that sheds hair a lot, you will find owning the 860 models a better choice.
However, if you are seeking for a robot vacuum that does its job well within a tight budget, the 805 models will serve you well. It has all the parts necessary to clean various types of flooring and wall edges.
Things To Consider Before Purchasing
Before purchasing whichever model you think suits you, here are some things to remember:
Sometimes the robot vacuum cleaner might not be able to find its way back depending on your house structure.
These vacuum cleaners come assembled and you can easily change the brush anytime without putting in too much effort in doing so.
Use the Dual Virtual Wall Barriers to keep your vacuum cleaner away from areas you don't need the vacuum cleaner to butt in.
Have you any questions about Roomba 805 vs 860? Feel free to ask me through the comment section or contact page.
Thank You