Dyson vacuum cleaners are the most popular choice of most Americans. Nowadays, there are too many Dyson choices, like Dyson Ball Animal, Animal 2, Multi Floor, and Multi Floor 2.
These four are the most popular Dyson vacuum cleaners right now. So, it's natural that you may face trouble choosing the best one. In this article, we've made the comparison between them starkly clear.
Other Vacuum Cleaner Comparison Guide:
Read on to get the full details!
Dyson Ball Animal vs Animal 2 vs Multi Floor 2 vs Multi Floor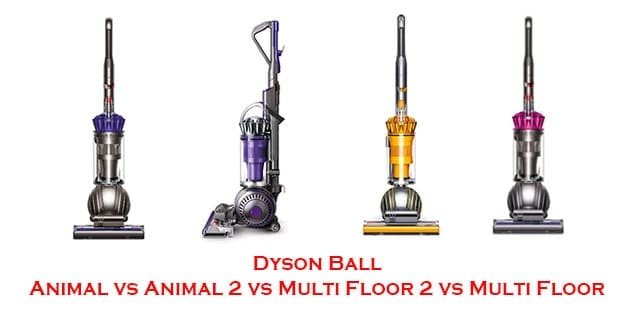 You can always read individual Dyson product reviews if you prefer. But today, we'll help you out in a much better way.
We'll compare the key features of each of these four vacuum cleaners and give you a clear verdict on them. It will help you to choose much faster.
Let's look at what these four vacuums have in common and how they differ in terms of some important features.
Design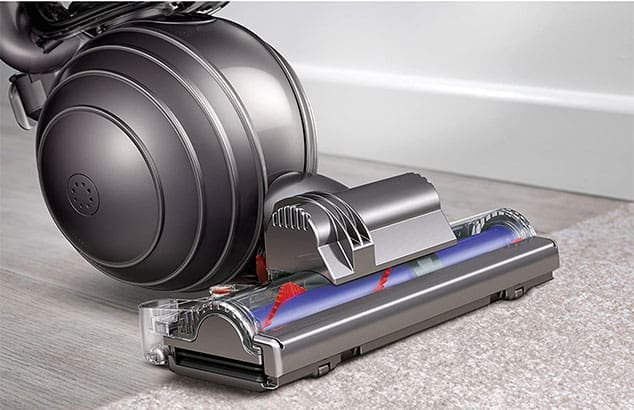 While efficiency is the most important feature of a vacuum cleaner, the design also plays a significant role. Nobody likes carrying around such a heavy vacuum cleaner. That's why Dyson always tries to make their vacuum lightweight and as stylish as possible, but not all of them are built the same.
Similarities
The reason it's so hard to compare these four Dyson Vacuum Cleaner models is that they're so similar in design.
When you look at them, it will seem like they are only different in color. Most vacuum cleaners have the same upright corded system, adjustable cleaning deck, huge Dyson Ball, transparent XL dust bin, cyclone suction, brush bar, cord, and accessory storage.
Differences
The color is the main difference between Dyson Ball Animal and Dyson Ball Multi Floor vacuums. One has a cool tone design, while the other has a warm tone design.
There aren't many Dyson Ball Animal and Animal 2 comparisons to make in terms of color, as they're both purple and iron colored.
Also, there aren't too many comparisons between Dyson Ball Multi Floor and Multi Floor 2 because they are both yellow and iron-colored. However, Dyson Multi Floor Origin vacuum cleaners are now available in fuchsia, which is the only difference.
Winner:
Because the models are so similar in appearance, a clear winner cannot be identified in this case.
Size & Weight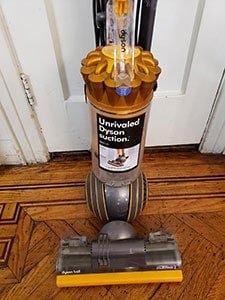 These four vacuum cleaners vary somewhat significantly in terms of size and weight. No one wants a heavy vacuum cleaner, no matter how efficient it might be, so we'll look at which Dyson vacuum cleaner is the lightest and most compact.
Similarities
The main similarity between these four machines is in their size. In terms of height, to be specific, they're very close in comparison. Their heights are as follows:

Dyson Ball Animal: 42.4 inches
Dyson Ball Animal 2: 42.13 inches
Dyson Ball Multi Floor: 41 inches
Dyson Ball Multi Floor 2: 41.93 inches
So, you see, there's barely an inch or two of difference in height between these vacuums. As they have a similar style and adjustable deck system, this height difference wouldn't matter. If you're comfortable using one of them, you'd be comfortable using all of them.
Differences
All four of these models fall within 15 to 18 lbs. of weight. While an inch or two difference in height wouldn't normally bother anyone, the same cannot be said for a difference in weight.
You'll find that simply upgrading to a pound heavier vacuum than your old one would seem to be much tougher to maneuver, especially if you're working for a long time. So, it's best to pick the lighter.
Here are the weights of these vacuums:

Dyson Ball Animal: 17 lbs
Dyson Ball Animal 2: 17.5 lbs
Dyson Ball Multi Floor: 17.4 lbs
Dyson Ball Multi Floor 2: 15.6 lbs
You can see here that the Dyson Ball Multi Floor 2 is the lightest vacuum cleaner here.
Winner:
If you're looking for a compact and lightweight model, Dyson Ball Multi Floor 2 might be the best option.
Usability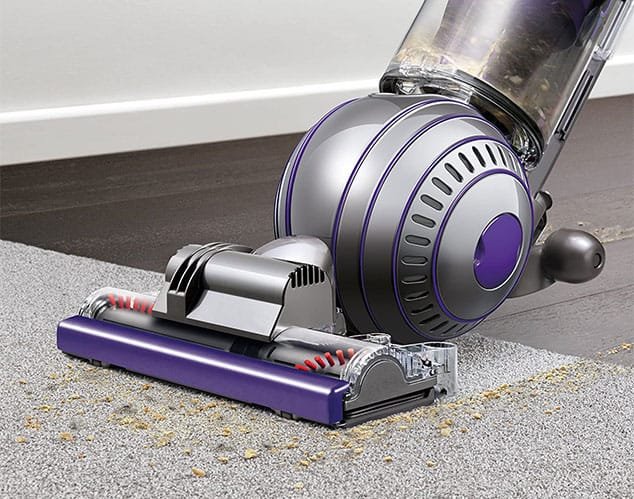 Many hi-tech and expensive vacuum cleaners that look to be the ideal useful tool are considered worthless when put to use due to a lack of usability. It is important to purchase a vacuum that is easy to use.
Similarities
From their design similarities, you may probably guess that finding the best vacuum from Dyson Ball Animal, Animal 2, Multi Floor, and Multi Floor 2 is very difficult. That goes for their usability as well, since they're all designed to have similar levels of usability.
All four of these Dyson vacuum cleaners come with an adjustable deck height so you can clean without any discomfort.
The Dyson Ball helps you make turns easily, though some people with Arthritis have complained that it makes their job harder.
Because of the ball's position, it's difficult to reach under low furniture, and that's why so many accessories and attachments come with these four vacuum cleaners.
The XL and clear dust bins on all of these vacuum cleaners help you dust for as long as you want without emptying the bin frequently. It also helps you take a look at the debris you've collected.
These vacuums have cyclone suction systems, though the power varies.
The vacuums come with a storage system for the cords and accessories.
These vacuums are delivered in parts, so you'll have to assemble them before you can put them to use.
Differences
The two notable differences in using these four vacuum cleaners are their purpose and cord length.
As their name suggests, the Dyson Ball Animal and Animal 2 are both suitable for homes with furry pets. They do well on hard floors and short to medium pile carpets. However, it's best to keep the Dyson Ball Animal away from shag or high pile carpets.
If you need to clean different floors, tiles, and carpets, the Multi Floor or the Multi Floor 2 are the best options.
Additionally, you should also keep the cord length in your mind. The two Multi Floor vacuums come with a 30ft power cord, while both Animal vacuums come with a 35ft power cord. However, I've found that a meager 5ft of cord doesn't usually make a big difference.
Winner:
In terms of user-friendliness, all four Dyson vacuums are similarly suitable.
Cleaning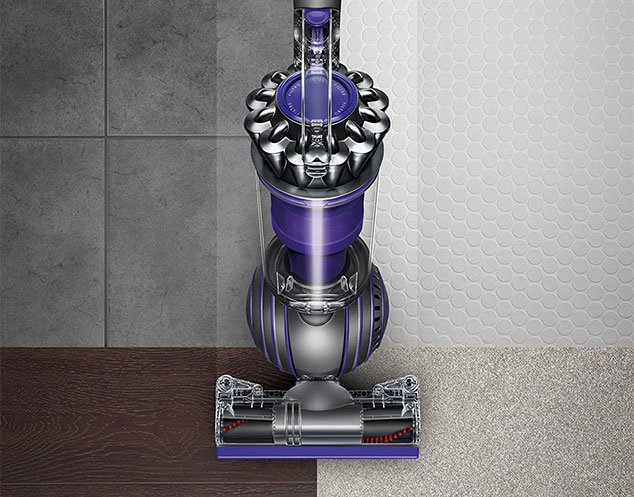 We've come to the most crucial factor when picking a vacuum- its cleaning prowess. Ultimately, a vacuum cleaner's cleaning power decide its worth.
Suction Power
In a nutshell, the Animal 2 model has higher suction than others. Here are the specifics:
Dyson Ball Animal: 245 AW
Dyson Ball Animal 2: 306 AW
Dyson Multi Floor: 270 AW
Dyson Multi Floor 2: 250 AW
[/su_list] Dyson Ball Animal 2 seems to be the clear winner here. I bet that's why this vacuum cleaner is so good at picking up pet hair and very small debris from nooks and crannies. I might even be tempted to forgive its unwieldy size and weight based on the cleaning power.
Bin Capacity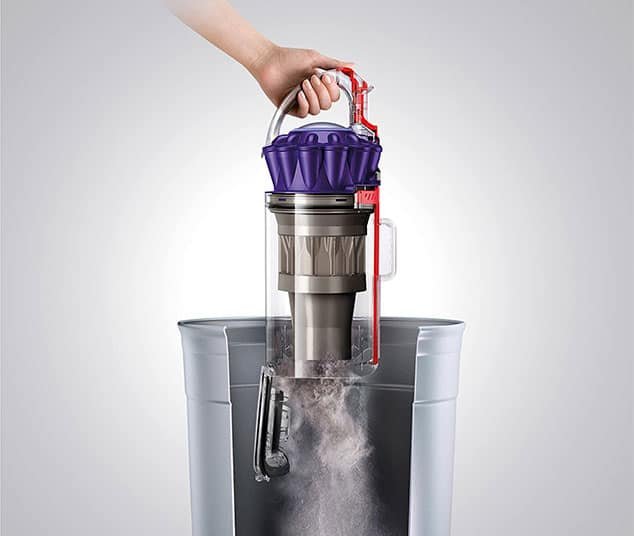 These Dyson vacuum cleaners are bagless, and bin capacity is an important issue. While comparing Dyson Ball Animal vs Animal 2 vs Multi Floor 2 vs Multi Floor, the bin size seems the same at a glance. That's mostly true.
Dyson Ball Animal, Animal 2, and Multi Floor – these three have the same bin capacity, 2,000 ml. However, Multi Floor 2 has a lower capacity, 1,600 ml.
HEPA Filtration
All four of these vacuums boast whole machine HEPA filtration, so there's no comparison.
Pantry Test
You don't consider a vacuum cleaner superior over others without first doing a pantry test! A pantry test entails putting a vacuum cleaner up against various sizes of debris. A vacuum's cleaning power is proven by how easily and how much debris it picks up.
Usually, a pantry test is done with a fluff of hair or fur and granules of different sizes, such as fine sugar, kitty litter, and cereal. When we ran a pantry test, Dyson Ball Multifloor 2 performed the best out of all four of these vacuums.
Winner:
Despite having a smaller bin capacity and comparatively lower suction power, the Dyson Ball Multifloor 2 is the winner as it performed well to pick up debris better than the others.
Noise Level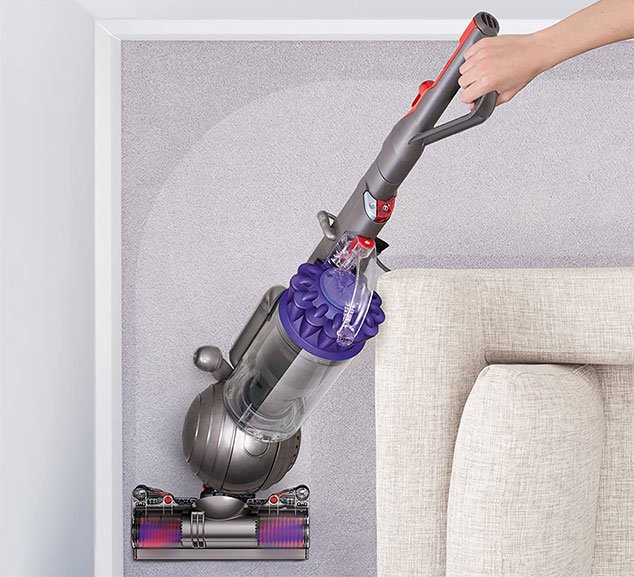 While operating a vacuum cleaner, you would naturally expect some noise level. All four of these Dyson vacuum cleaners are considerably big and heavy machines, and they do heavy-duty work.
However, you'd be using it inside your home, so it's natural that you wouldn't want a machine that makes too much noise.
Unfortunately, Dyson's upright vacuums are among the loudest because they have powerful motors. All four of them can reach up to 80 dB in noise.
However, if you notice these Dyson vacuums making unusually loud noises, popping noises, or even screeching, they might be something wrong. You might need to clean out the filter or make some other changes. It's best to contact your seller when that happens.
Winner:
All four of these vacuums are similarly noisy, so there's no clear winner here.
Accessories & Tools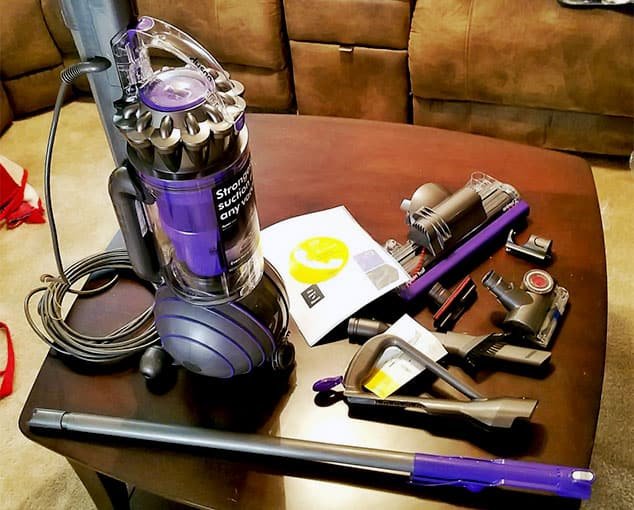 These vacuums have extra accessories or attachments when you need to clean something out of the ordinary or reach a demanding space.
Remember that the attachments may vary based on where you purchase them.
Similarities
All four of these vacuum cleaners come with three tools each. They all come with a stair tool. It's useful for picking up debris, fur, and hair from carpeted stairs.
However, the other tools are different.
Differences
Dyson Ball Animal and Animal 2 come with a turbine tool and a combination tool, while the Multi Floor and Multi Floor 2 come with a crevice tool and a dusting tool.
The turbine tool consists of counter-rotating brush heads, so you can remove hair without it getting tangled in the brush. It is suitable for carpets and upholstery.
As the name suggests, the combination tool combines a wide brush and a wide nozzle that allows you to switch between various tasks.
The crevice tool is a useful attachment that helps you get into narrow, small spaces to get stubborn debris out. Lastly, the dusting tool is a brush that helps loosen dirt and dust before the vacuum sucks.
Winner:
All four of these vacuums come with three extra tools each. They're simply equipped differently. Depending on which tool you need most, you'd have to pick which is the winner here.
Price
Both Dyson Ball Animal and Animal 2 are about a hundred bucks or more expensive than the Multi Floor models. In terms of price, Multi Floor 2 is the cheapest.
Winner:
A new Dyson Ball Multi Floor 2 would be your most economical choice no matter where you look.
Overall Experience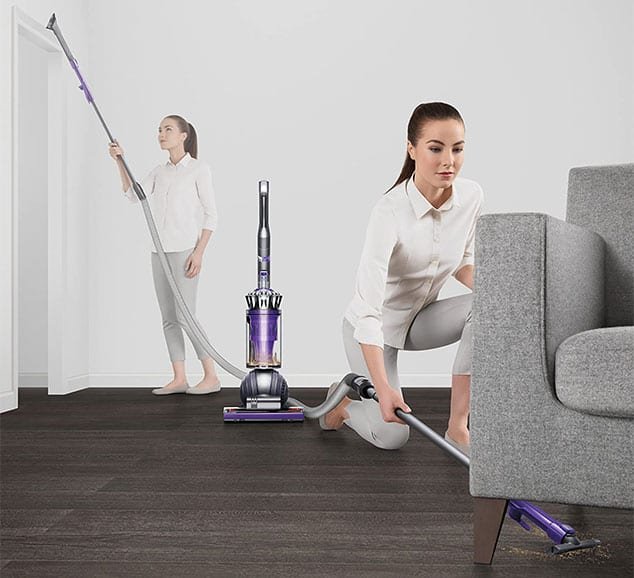 Before I tell you which vacuum, I prefer in terms of overall performance, here's a short breakdown of which vacuum you might prefer based on what you need the most:

Suction power: Dyson Ball Animal 2
Maneuverability: Dyson Multi Floor 2
Longer and easier cleaning: Dyson Multi Floor
Now, here's the verdict.
Comparing Dyson Ball Animal and Animal 2, the upgrade is the better option. Similarly, between Dyson Ball Multi Floor 2 and Multi Floor, the upgrade is the one you would want.
Considering everything, I think the Dyson Multi Floor 2 is the best option when considering Dyson Ball Animal vs Animal 2 vs Multi Floor 2 vs Multi Floor.
Yes, it's slightly less powerful than the others, and the bin capacity is smaller. However, all the other perks make up for it.
Dyson Ball Multi Floor 2 is the most economical option out of all four. It's also more compact and lightweight. In terms of cleaning tests, filtration, ease of use, and suction, it measures up fairly against the others. Considering the price, it's honestly a steal.
Compared to this one, the other options fall slightly short. Dyson Ball Animal and Dyson Ball Multi Floor already bit the dust. I'm also not too keen on the Dyson Ball Animal 2 because of its overly heavy and bulky structure. So, Dyson Ball Multi Floor 2 it is!
Frequently Asked Questions
How to Remove Hose from Dyson Ball Animal?
Removing the hose from a Dyson Ball Animal is simple and quick if you follow the instructions.

For safety, turn off the power and detach the power cord before trying anything.
Next, you'll notice a dial with a red tab a few inches down on the wand. Turn it counterclockwise.
Then, you'll notice a red button where the wand and the hose are attached. Press it, and you can pull the wand away.
Now, press the red button on the canister and pull it up and away.
Lastly, press on the red tab at the hose base and wiggle around. The hose should release without putting much pressure on it.
How to Clean Dyson Ball Animal 2?
It's easy to clean Dyson Ball Animal 2. First, you can remove the dust bin from the vacuum and then pull out the vacuum filter from the cyclone.
Next, you can place the whole machine on its side on the floor, reach the purple dual counterclockwise and release the other filter.
Rinse the filters with water and dry them for a full day. You can wash the filters once a month. You should also wipe the clear dust bin with a damp cloth, preferably after each use.
Is the Dyson Ball Animal 2 Heavy?
Yes, the Dyson Ball Animal 2 is quite heavy. It's one of the heaviest upright vacuums in the market. As it weighs 17.5lbs, you'll have trouble carrying it between levels. Some even have trouble carrying it from room to room.
If you want a lightweight vacuum, you might want to look at other models. On the other hand, if you don't mind carrying a heavy machine, you should invest in it, as it offers some amazing features.
Is Dyson Animal Good for Carpet?
Yes, the Dyson Animal is good for carpets, but only for old carpets. If you try using it on a new plush carpet, your vacuum will not work. It might even damage the carpet to some extent. So don't use the Dyson Animal on a new carpet.
On the other hand, this vacuum works great on old carpets. The suction is great, and it picks up dust and pet hair as promised.
Can you Use Dyson Ball Animal 2 on Hardwood Floors?
Ans. Yes, you can use Dyson Ball Animal 2 on hardwood floors. The amazing suction power helps pick up every tiny bit of dirt from the floor. Some users suggested disabling the brush bar before you clean the hardwood floor, and that's an option.
However, some customers have complained that the Dyson Ball Animal 2 wheels may leave dents in the hardwood floor over time due to their weight, which is something to keep in mind.
How to Empty Dyson Ball Multi Floor 2?
You can empty the Dyson Ball Multi Floor 2 without touching any dirt or breathing dirty air. There's a button that releases the collected dirt from the bottom of the vacuum. So with just the press of the button, you can empty the vacuum.
You should empty the Dyson Ball Multi Floor as soon as the level of dirt and debris reaches the "MAX" line marked on the bin. Never let it overfill.
Additionally, wash the filter by rinsing it under running tap water. Don't use any soap or cleaning agent. Squeeze to get the water out and dry it for a full day before putting it back in your vacuum.
How to clean the filter on the Dyson Ball Multi Floor?
First, you need to get them out of the vacuum to clean the filter.
You'll notice a clip titled 'filter' on the dust bin for the first filter. The conical filter is easy to take out if you open the clip.
Next, you can place the vacuum on the floor on its side to access the blue cover. Turn it anti-clockwise and remove it, then turn the filter the same way and pop out.
You can clean the filters by rinsing them under running tap water. Don't use any cleaning products. Keep squeezing till it releases clear water. After that, squeeze out any extra water and let it dry for at least a day. Then reattach the vacuum filters.
Dyson Ball Animal Pro Premium Upright Vacuum Cleaner Review
Specifications:
Dimension (HxWxL): 42.4″x 15.4″x 13.4″
Weight: 24 lbs
Color: Purple
Cord Type: Corded, 51 ft
Telescopic Handle: Yes
Self Propelled: Yes
HEPA Filter: Yes
Height Adjustment: Yes
Rotating Brushes: Yes
Hygienic Bin Emptying: Yes
Cleaner Head: Self-adjusting Cleaner Head
Voltage: 60Hz 120 volts
Accessory: Reusable Cleaning Cellulose Sponge Cloths, one cloths per order and Colors may vary.
Didn't you find what you were looking for among the four above vacuum cleaners? The Dyson Ball Animal Pro Premium Upright Vacuum Cleaner is the bonus read. I feel it might be just the thing you were looking for.
About Dyson Ball Animal Pro
Radial Root Cyclone: This technology ensures the vacuum doesn't leave any dust. Radial Root Cyclone is a fantastic feature for those who don't like vacuuming half-heartedly and want a spotless home. It ensures that no residue will be left when you're done vacuuming.
Self-adjusting cleaner head: This head would adjust accordingly and pick up dirt no matter what surface you're cleaning, whether a rug or a hardwood floor. Plus, the head is equipped with a brush bar that digs just right into carpets to bring up dirt no other vacuum cleaner can. It's especially suitable for homes with pets.
Certified asthma and allergy-friendly: Do you need a vacuum cleaner that wouldn't cause your asthma or allergy to flare up? This machine is certified to be friendly to people with asthma and allergy. The entire-gadget filtration helps with that.
Accessories: The tools and attachments that come with this vacuum include a turbine tool, flat-out floor tool, soft dusting brush, multi-angle and stiff-bristle brush, stair tool, combination tool, and an accessory bag to keep it all.
The above points were the main features of this vacuum cleaner. Other than that, it also has the winning points that the other Dyson vacuums offer. That ball technology, the telescopic handle, bottom-emptying dust bin, etc.
PROS:
Perfect for heavy-duty vacuum cleaning
Great for homes with asthma and allergy patients
Comes with a lot of attachments
Self-adjusting cleaner head
Capable of deep-cleaning your carpets
CONS:
Cons
It's heavier than even the Dyson Ball Animal 2
It's quite pricey
Why Should You Buy This Upright Vacuum Cleaner?
Now, let's first talk about why I suggest you look at this vacuum cleaner and the Dyson Ball Multi Floor 2.
The best features about the Multi Floor 2 were its compactness, lightweight, and competitive price. It gave a great value for the money overall.
However, that might not be what you're looking for.
People looking for a great performing vacuum and not worried about their budget would benefit from checking out the Dyson Ball Animal Pro Premium. You can even call it an industrial-strength vacuum cleaner compared to the other four.
Consider a few scenarios. You could have a house full of pets who are always shedding hair, and not all of them are house trained. You could have a house full of children. One or more of them may suffer from asthma or allergies, or you could simply be an extremely conscientious person.
Whatever the case, a regular vacuum cleaner would not cut it. You need something capable of pulling fur, hair, and miscellaneous gunk out of your floor and carpets. Moreover, you also need it to be friendly to asthma and allergy patients.
In this case, you'd be hard-pressed to find something as perfect as the Animal Pro Premium.
A Couple of Downsides
In this world, no vacuum cleaner is completely foolproof, and neither is this one. It does have some negative points. As you've noticed, it's quite pricey. Looking for a budget choice? Then this isn't the one you want.
Another disadvantage is the weight. It weighs around 1.5 times as much as the other options. Many people may find it uncomfortable. If you're a small, unwell, or an older person, you need to steer clear of this machine. It would take some muscle to maneuver it around the house.
Final Thought
Thank you for reading this lengthy article about Dyson Ball Animal vs Animal 2 vs Multi Floor 2 vs Multi Floor. My final verdict is to go for the Dyson Ball Multi Floor 2.
Out of Dyson Ball Animal and Animal 2, Animal 2 doubtlessly performs better. On the other hand, the upgrade works better when comparing Dyson Ball Multi Floor 2 and Multi Floor. It comes down to Dyson Ball Animal 2 vs Multi Floor 2, and Multi Floor 2 comes out the winner.
Need a compact, lightweight, cheap yet powerful, and versatile tool? Then Dyson Ball Multi Floor 2 might be your friend.
Not happy with it? You can check out the Dyson Ball Animal Pro Premium instead! It's got all the things that these four vacuums offer and more! Just make sure you have the cash and the muscle power to use it, and you're all set.
Which one of these Dyson upright vacuum cleaners do you love? Do you have a recommendation? Don't forget to spill the tea in the comments section!