In the present world that we are living in, there's no way to deny the impact of the internet in our lives. As technology is getting more and more advanced, people are switching to wireless connections for their convenience. Suppose you are looking for a router that provides you with the fastest speed and best performance. In that case, Netgear AC1750 is definitely the perfect choice. However, this gadget is also not free of flaws. So for basic problems read this Netgear AC1750 Troubleshooting Guide.
While using your Netgear Ac1750, you can encounter problems such as WiFi not working, the router failing to connect to the internet, etc. But no worries. These problems may seem very daunting, but you can fix them easily by yourself!
More Related Troubleshooting Guides
In this article, I have discussed the common problems people face while using Netgear AC1750, with their probable cause and solutions. By the end of this article, you'll definitely be able to know many new things about Netgear AC1750 troubleshooting!
So, without further ado, let's jump right in!
Netgear AC1750 Troubleshooting For Common Problems 
Netgear routers have always been among the best for quite a while. As more and more people are starting to use it, many different problems are also coming to the surface.
Most of the problems usually occur when you fail to setup your device properly. But if you are facing problems even after doing everything right, then don't stress.
In this segment, you'll get to know the common problems and how to fix them all by yourself.
So, let go!
Problem 1: Netgear AC1750 WiFi Not Working
A very common problem that many people usually face is when the WiFi is not working. It can happen for various reasons, such as faulty cables and problems within the router itself. But the solutions are somewhat the same in every case.
If the router isn't able to connect to the network, the WiFi won't work.
So, let's look at the solution if you are facing the same problem.
Solutions:
Firstly, you will need to check the connections. All the wires and cables should be tightly fastened. If there are any loose connections, then the WiFi will not be connected.
You will also need to check if there are damaged spots on the cables. They should be working properly. Also, you need to make sure that there are no broken components.
And if you need to access the internet urgently, then just remove the internet or ethernet cable from the router. Then, connect it to your device directly. As a result, the wireless function will be disabled.
Next, if there's a back-end problem, WiFi might be disabled. To solve this, you have to login to your router. Next, from the advanced tab, pick an advanced setup. From there, you'll need to choose the wireless settings. Next, enable the WiFi box.
Lastly and most importantly, always click the apply or save button afterward! And that should solve the problem in most cases.
If the problem still persists, a quick and easy fix is to reboot the device you're using. In most cases, some minor issues such as bugs cause the device to not connect with the WiFi. That's why restarting your mobile phone or computer is always a very quick and simple solution.
At the same time, you can also try to reboot your router or modem. With every restart, the internet signals get refreshed. The speed will increase too.
But if there are major issues, then a simple reboot will not be able to solve the problem. In that case, my recommendation is to hard reset your Netgear router.
For this purpose, you'll need to locate the reset button on your router. Then with a needle or pin, press it for a little while. Keep in mind that you should not use a metal pin, as it can easily damage the router.
It will take around 10 seconds for the router to reset. After that, your WiFi connection should be working properly.
If you still can't establish the WiFi connection, I suggest restarting the network. To do this, just go through the following steps:
Switch off the router and modem. You'll also need to turn off all the devices that are connected.
Carefully switch on the modem. Then, wait for a couple of minutes. This will give it some time to recover fully.
After 2-4 minutes, switch on the router. Then let it connect to the internet.
Next, switch on all the devices you want to connect, and you should see the WiFi working perfectly.
So, from all the solutions stated above, you should be able to solve the problem of WiFi not working!
Problem 2: Netgear AC1750 Router Won't Connect To The Internet 
This is also a very common problem to face while setting up your Netgear AC1750. Sometimes it can show to be connected, but still there's no connection whatsoever.
It usually happens when the setup isn't done properly. If you are also facing this issue, then it's better to look at the solution.
Solution:
First of all, you will need to unplug every connection.
Then you need to plug the modem and wait for a couple of minutes. When all the lights are on and stable, then you will need to plug in the router.
Then you will have to plug the cable that is colored yellow to WAN. If everything's alright, then the lights will similarly stabilize after a while.
Also, sometimes, plugging in ROKU can cause a hindrance in the router. In that case, just don't plug the ROKU in beforehand, and plug it in only after the connection has been established. And that should solve the problem easily!
Problem 3: The Internet Stopped Working Suddenly 
This is a problem that people usually face after doing a reset. Normally, a hard reset should be able to solve the problem, but sometimes, the problem gets bigger even after a reset.
Suppose the router works fine in AP mode. In that case, reset puts it back to the router mode, resulting in the internet's sudden discontinuation.
So, do you want to know about the solution? Then let's take a closer look.
Solution:
The quickest and easiest fix of this problem is to use an ethernet cable tool. Most of the time, the router can stop working if the end of the cable isn't fixed properly.
So, by using an ethernet cable, you can easily solve this problem.
How To Troubleshoot Netgear AC1750 Setup Problems?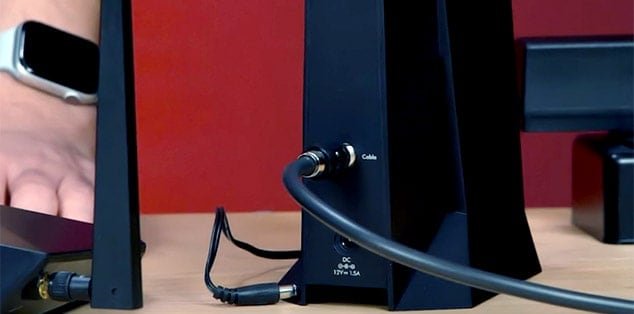 Many of us face problems when we setup our Netgear AC1750 routers by ourselves.
If you also face problems with setup, then no worries. I have listed some simple troubleshooting steps to help you fix the issues.
Check all the wires that are connected to the router. They should not be damaged, as damaged cables will create issues.
Keep the extender away from cellular phones, microwave ovens, or anything that can produce a hindrance in the signals. You should also keep metal objects away from the extender if possible.
In order to get the best performance, you will need to access high-speed internet on the device you are using.
The extender should get an adequate power supply to work properly. That's why you should check if it's getting enough power.
You have to check if the plug is damaged or not. Short circuited plugs also create issues in the router most of the time. So, double-check everything very carefully.
Additionally, it is ideal to use the latest Netgear firmware version. That way, you will have fewer chances to have compatibility issues. Also, if you still can't solve the problems, my recommendation is to reset the extender to its default factory settings.
Conclusion
As you see, some problems may look very challenging at first, but you can fix them easily once you know exactly what to do. I hope now you have a clear idea about your Netgear AC1750 Troubleshooting! 
And if you still aren't able to figure out the solution to your problem. In that case, you can connect your internet service provider to help you out.
But if the router still isn't working, chances are it's the end of its lifespan.
But don't get too sad! At least now you know exactly what to do if you encounter any of these problems in the future.
All you need to do is to stay aware and fix the problems as soon as you can!