Are you a passionate coffee lover? Do you love to enjoy sunny afternoons with a nice cup of smoky coffee in your hand? Do you feel craving for instant smooth coffee working from home? Trust me we all have been there and feel the same when it comes to coffee.
Passion or craving for a smooth coffee is very common in people. But the fact is, making a cup of coffee is not a very easy task. People who have a very limited time for making coffee but also crave a smooth coffee. That's why you need a good coffee maker, which will allow you to make the coffee you desire.
There are so many coffee makers out there to help you save time and to ease your coffee making. Hamilton Beach 46201 coffee maker proves to be the best among all of them with its unique design and amazing features. Hamilton Beach 46201 coffee maker is an elegant-looking and handy coffee maker.
Hamilton Beach 46201 coffee maker would be a great option if you want to make great coffee with minimal effort and at a reasonable price.
Some Important Features at a Glance:
It is a 16-inch coffee maker
It's body is made of both stainless steel and black plastic
Capable of making 12 cups of coffee without refilling the water reservoir
Built-in programmable clock and timer
It has 3 brew options; regular, bold, or 1-4 cups
2-hour auto shut off technology
The auto pause and serve facility is a great feature
Weighs about 5.35 pounds
Carafe prevents too much coffee from spilling away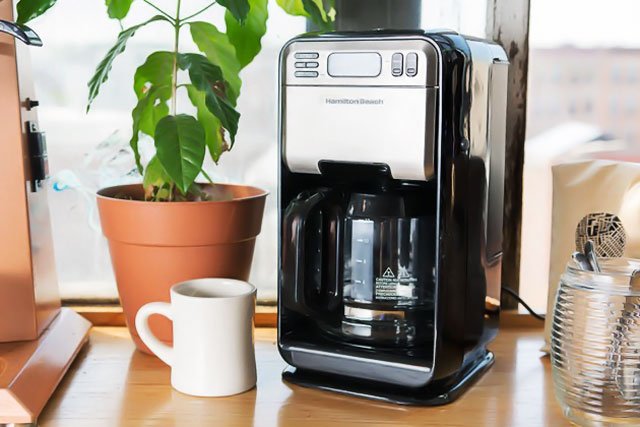 Hamilton Beach 46201 Reviews
Hamilton Beach 46201 coffee maker has a sleek and stylish design. The stainless steel design on the front makes it look elegant. Its back part is made of sleek black plastic. This design surely is eye candy for anyone of good taste.
This coffee maker is built with a 16-inch body that can fit anywhere in the kitchen. It also is a great space saver.
It consists of four major parts they are mentioned below
Swing-out brew basket
Water reservoir
programmable clock and other buttons
kettle to hold the pouring coffee
1. Swing-out brew basket:
On the top level of this coffee maker below the programmable clock and other buttons, there is a brew basket to hold the coffee brew. These baskets can be opened with a release button.
You can swing it open with the release button and fill it up with a coffee brew. This swing-out brew basket prevents over pouring of coffee brews.
2. Programmable clock and other buttons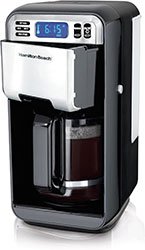 Just above the brew basket, there is a readable clock display and a few buttons around the clock display. The display projects the time with an adjustable clock. This display also reads the temperature and the type of coffee you are making currently. This programmable clock is designed in such a way that it will shut off the coffee machine after 2 hours.
There are 5 buttons around the clock display of this machine. These buttons are
On/off
Program
Keep warm
Hour/minute
Brew options
By starting the machine with an on/off button you can operate the coffee machine with these buttons and make your coffee. It has a special button that reads "brew options". This button will let you choose between bold, regular or 1-4 cups options.
3. Water Reservoir: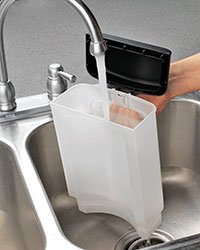 There is a removable water reservoir in this coffee machine. This water reservoir is wheel-based. This wheelbase water reservoir provides easy access to the water reservoir. This reservoir can store a decent amount of water, which is capable of making 12 cups of coffee.
This reservoir is so lightweight and easy to remove that you can fill it with fresh water easily. It is also easily washable.
4. Kettle/Carafe to hold the coffee: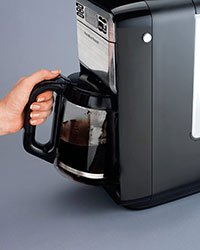 At the bottom of this coffee machine, there is a kettle-shaped carafe to hold the coffee. The machine makes the coffee with brews and water and pours it down to the kettle. This carafe holds enough amount of coffee. This glass carafe works as a transparent thermos flask that can keep the coffee warm and fresh for a long time.
This carafe spout on this Hamilton Beach coffeemaker is enriched with a deeper groove than other coffeemakers. This groove ensures that it won't dribble too much as a drop when you are pouring your coffee cup.
Plus this kettle is pretty neat and stylish. You can serve your guests with this stylish coffee pot without any hesitation.
Performance: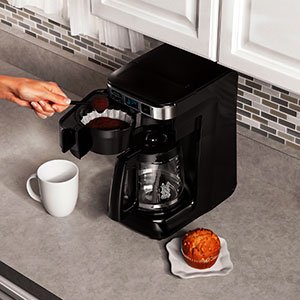 Hamilton Beach 46201 Coffee Maker absolutely left no chance to raise any question about this coffee maker's performance. It is designed and manufactured to provide the best output and to make you an astoundingly great coffee.
The convenient coffee-making procedure, easy automation and user-friendly features have made its performance great. This coffee maker allows you to choose between bold, regular or 1-4 cups. It can store a large amount of water as well so that you can make 12 cups of coffee without having to refill the water.
Durability: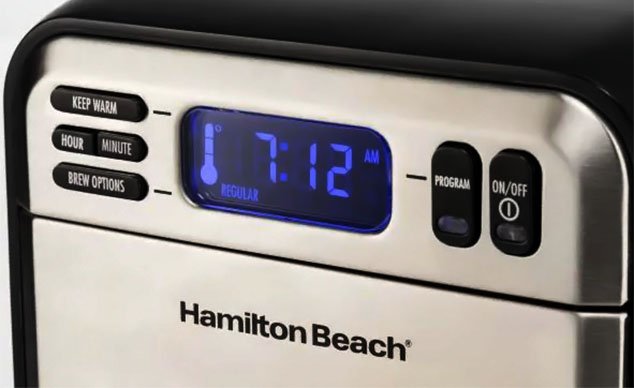 One of the best advantages of having this coffee maker is that it ensures durability. And if you ask any of the users, they will vouch for this durability as well. The manufacturer marketed it with a 5-year long warranty.
Unfortunately, if you face any problem during this warranty time period,   you can report them, and can easily get the replacement from the manufacturer company.  Reports of malfunctioning or defects about this coffee maker is not that we heard of.
Quality: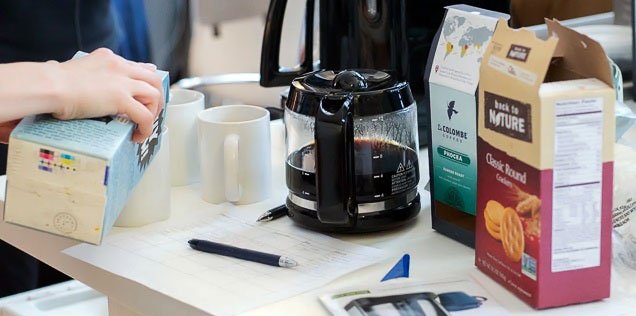 Hamilton Beach 46201 is a quality coffee maker. It is made of quality and sleek stainless steel and black plastic. It is also installed with quality features and technology. 2 hours auto-shutoff and the auto-pause system is promised to save your utility and prevents overheating. Overall it is a quality coffee maker with quality features that can enrich your kitchen décor possession.
Price:
This coffee maker comes with a price of Under 70 which is quite reasonable if you check the price tag of other coffee makers.
Drawback
Some people reportedly claim it to be a bit noisier than the usual coffee makers. Customers have reported that this coffee maker produces a bit of excessive noise while making coffee. Well, it is a slight disadvantage of this coffee maker, if you call it a disadvantage.
Else if you face any problem with this coffee machine then visit: Hamilton Beach Flexbrew Troubleshooting
How to Make Coffee With Hamilton Beach 46201 Coffee Maker
Hamilton Beach 46201 coffee maker is pretty simple and user-friendly. it has the exact same operational technic as other traditional drip machines. You can make smooth coffee with this coffee machine by following the below steps
Push the 'Swivel Filter Basket Button' which is on the right side of the machine. It will allow you to access the filter basket.
fill up the basket with an appropriate amount of coffee grounds.
Remove the water reservoir which is easily removable. Now you can easily fill up the reservoir with fresh water from the sink.
Choose your coffee type by pressing the brew option button. If you like the regular one then press the regular button. If you like a bold coffee to electrify you then press the bold option. 1-4 cups button will allow you to have smaller batches whenever you are not feeling the urge to have a bigger cup of coffee.
Finally, the machine will make your coffee and pour it into the kettle. And voila your coffee is ready to drink.
Some Final thoughts
Hamilton Beach 46201 is a great coffeemaker. The price range will seem pretty reasonable if you look at the outcome or service you will get with it. This coffee maker comes with a 5-year warranty. It is easy to use, very easy to clean and will give you an excellent cup of coffee every time you feel the craving for a cup of coffee.