One of the greatest innovations in printing technology is the color printer. This technology is being introduced by almost all printer manufacturing firms. Epson printers fall within this group as well.
Additionally, Epson offers a number of high-end printer lines. One of the top models for printing is the Epson ET-2750 Wireless Color All-In-One Supertank Cartridge Free Printer.
Is there a plan B if the color printing capability of this high-quality premium printer fails?
Not to worry. This post will explain how to resolve the issue and resume printing in color on an Epson ET-2750 if color printing is not working.
Why Epson ET-2750 Not Printing Color?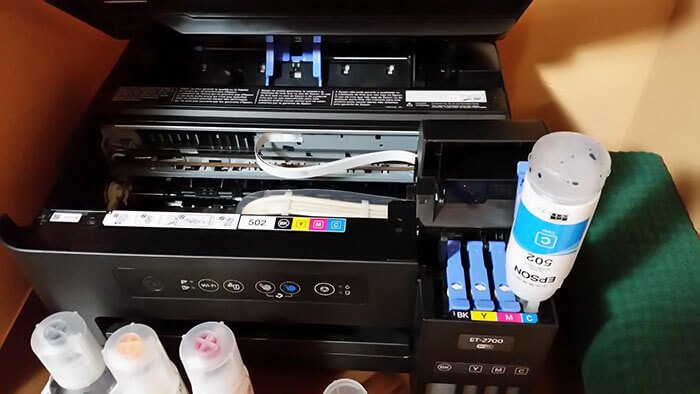 If you find that your Epson printer is not printing color, there are a few potential reasons why this may be happening. Here are some things to check if you're troubleshooting this issue:
Check your ink levels: If your ink levels are low, this can cause colors to print incorrectly or not at all. Make sure that you have enough ink in all of the cartridges before proceeding.
Confirm your ink is not dried: Your Epson printer probably can't print color because the ink in the tank has dried up. The most common cause of this is prolonged inactivity on your printer. The ink in the tank dried throughout this period. In addition, the ink inside the tank will dry if the cover is left open for too long.
Check for clogged nozzles: Over time, printer nozzles can become clogged with dried ink, which can prevent colors from printing correctly. You can clean the nozzles by running a cleaning cycle on your printer (consult your printer's manual for instructions on how to do this).
Adjust the color settings: If you're still having trouble getting colors to print correctly, try adjusting the color settings in your printer software. Sometimes changing these settings can help improve print quality.
Internal Errors: Internal problems with the printer can frequently result from constant printing. If it happens, a printer could follow the wrong instructions or stop printing in the desired hue. So, after printing for a while, give your printer a break. A straightforward restart can sometimes be a relief for you.
Use a different paper type: If you're using photo paper or another specialty paper, sometimes switching to a different type of paper can help improve print quality. Try using plain white copy paper and see if that makes a difference.
Maybe the Driver Is Outdated: Epson occasionally releases new versions of its printer drivers to address compatibility issues with various operating systems. It's possible that your printer won't print in color if you use an older driver file instead of the most recent one. Therefore, updating your printer driver on a routine basis will keep it running quickly.
Contact Epson support. If you've tried all of the above and you're still having trouble getting your Epson printer to print colors correctly, then it's time to contact Epson support for further assistance.
Epson ET-2750 Power Cleaning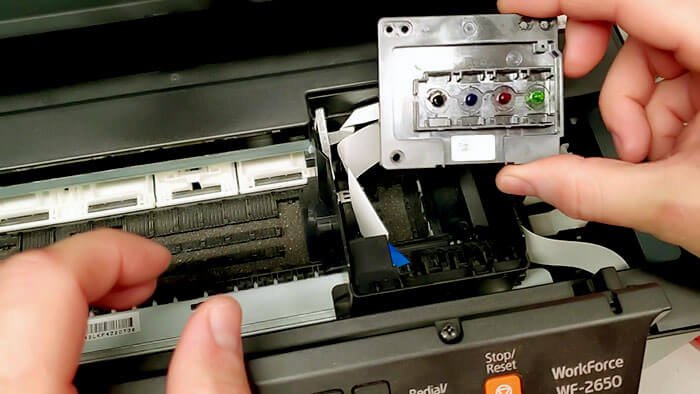 Epson's ET-2750 is a great printer for those who want to print high-quality photos. However, like all printers, it requires regular cleaning to maintain its performance.
Over time, the print head nozzles can become clogged with ink, resulting in poor print quality. This is why it's important to perform a power cleaning on your Epson ET-2750 periodically. To power clean your printer, you'll need some distilled water and some lint-free clothes.
Begin by turning off the printer and unplugging it from the power source. Then, remove any ink cartridges from the printer. Next, soak a lint-free cloth in distilled water and use it to wipe down the exterior of the print head nozzles.
Be sure to avoid getting any water on the electrical contacts. Once you've cleaned the exterior of the print head nozzles, use another lint-free cloth soaked in distilled water to clean the interior of the nozzles. Gently insert the cloth into each nozzle and twist it around to remove any ink buildup inside.
Finally, rinse off the print head nozzles with clean distilled water and dry them with a third lint-free cloth before reassembling your printer. By following these steps regularly, you can keep your Epson ET-2750 printer printing at its best!
Epson ET-2750 Print Head Replacement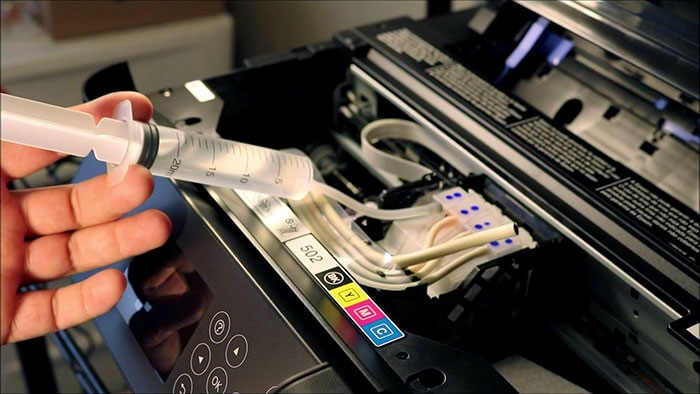 The Epson ET-2750 is a great printer for the home office. It offers fast printing speeds and high-quality prints. However, like all printers, it will eventually need some maintenance.
One of the most common parts that need to be replaced is the print head. The print head is responsible for delivering ink to the paper. Over time, it can become clogged with dried ink or debris.
When this happens, it can cause poor print quality or even prevent the printer from printing at all. Fortunately, replacing the print head on the ET-2750 is a relatively easy process. Just follow these steps:
Turn off your printer and unplug it from the power outlet.
Remove any ink cartridges from the carriage. You can do this by pressing down on the cartridge release button and then sliding out the cartridge(s).
Locate the two screws that secure the print head in place (see image below). Use a Phillips screwdriver to remove these screws.
Gently lift up on the print head to remove it from its carriage (see image below).
Insert your new print head into place and secure it with the two screws you removed earlier. Be sure not to overtighten these screws – just snug them down until they're finger-tight.
Reinstall your ink cartridges and plug in your printer. Turn it back on and run a test page to make sure everything is working correctly. And that's it!
Epson Et-2750 Color Management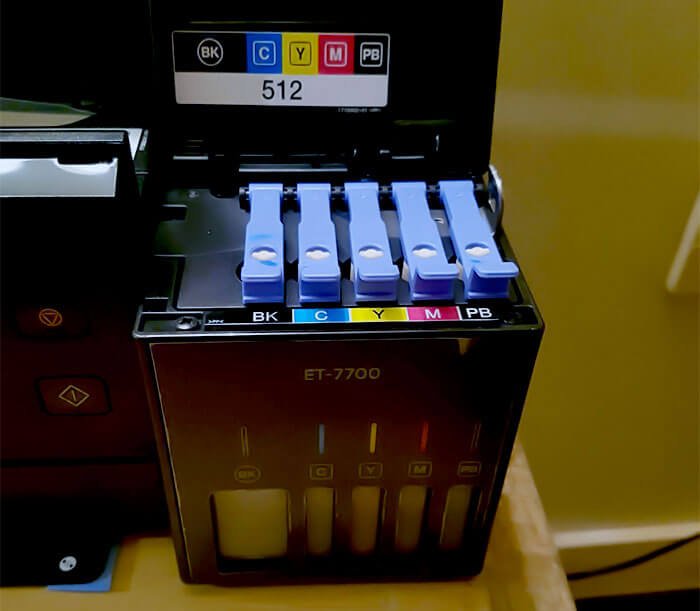 Epson's ET-2750 is a color management powerhouse, providing accurate colors and consistent results on a variety of media. The unit's six individual ink cartridges produce rich, detailed prints at resolutions up to 5760 x 1440 dpi, and its automatic duplexer makes it easy to print double-sided documents. It also has a lot of ways to connect, like Wi-Fi Direct and NFC, which make mobile printing easy.
Update The Driver for Epson ET-2750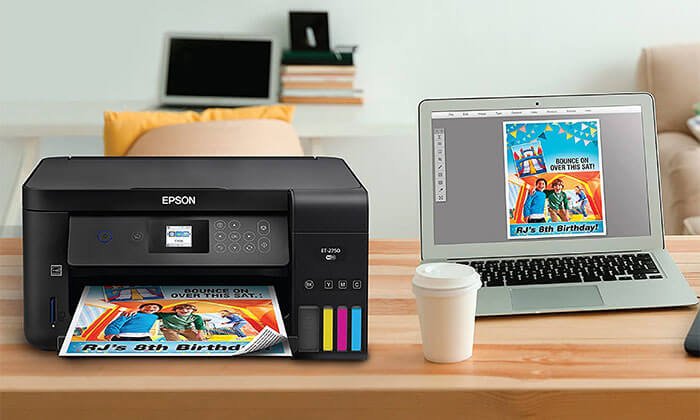 You must upgrade your printer driver from the Epson website, and this is a very important step. This process is really simple. Additionally, this one action can resolve numerous additional printer problems. such as printing nothing, making internal noise, printing slowly, etc. Changing the software
Go to the official Epson website in your browser.
In the search box, type "Epson ET 2750" as the name of your printer model.
From the list of search results, select your printer.
Click "Support."
Press "Driver +."
Now, download the most recent driver file. Simply click the "Recommended for you" box and download the driver.
Install the program file correctly after downloading it.
Restart your computer.
Look over the printing.
How to Adjust Print Quality on the Epson Et-2750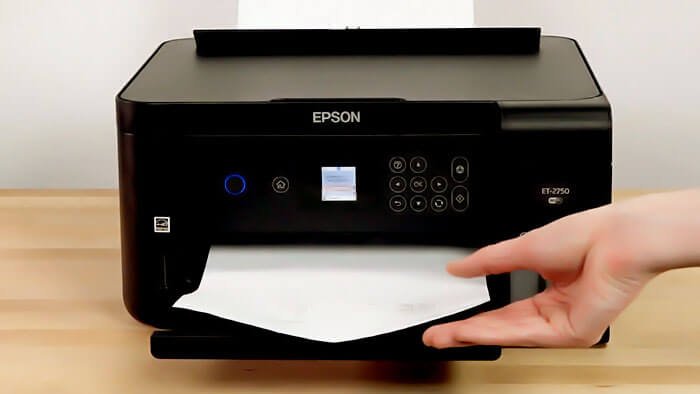 It is no secret that Epson printers are some of the best on the market. They are known for their high-quality prints and their versatile features. The ET-2750 is a great example of an Epson printer that offers both quality prints and versatility.
One feature that makes this printer stand out is its ability to adjust print quality. This can be done through the printer's settings menu. Here is a step-by-step guide on how to adjust print quality on your Epson ET-2750:
Open the printer's settings menu. This can be done by pressing the "Menu" button on the control panel.
Use the arrow keys to navigate to the "Print Quality" option and press "OK."
Now select your desired print quality setting from the list (e.g., Normal, High, or Ultra High).
Press "OK" to save your changes and exit the menu.
How to connect an Epson ET-2750 Printer to WiFi?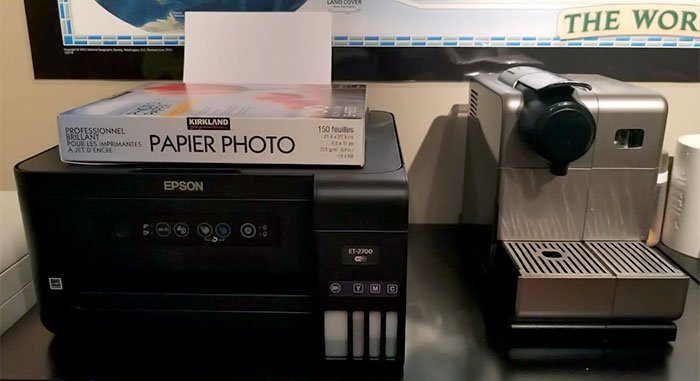 First of all, connect the Epson ET printer to WiFi.
Start the printer.
Go to the control panel and click the "Home" button.
By using the arrow button, choose "Wifi Setup."
Click "OK"
Select the network name once the search has been completed.
Put the password in.
and click "OK."
What to Do if Epson Et-2750 Not Printing at All
If your Epson ET-2750 isn't printing at all, there are a few potential causes. First, check to make sure that the printer is properly connected to your computer and turned on. If it is, then the next step is to check for any errors in the print queue.
To do this in Windows, open the Devices and Printers control panel and double-click on your Epson printer. Then, click on the "See what's printing" option in the menu bar. This will open the print queue, and you can check for any error messages.
If there are no error messages in the print queue, then the next step is to try uninstalling and reinstalling your Epson printer drivers. You can do this from the Devices and Printers control panel as well. Just double-click on your Epson printer and then click on "Remove device" in the menu bar.
Once you've done this, restart your computer, and then go to the Epson website to download and install the latest drivers for your model printer. If you've tried all of these things and your Epson ET-2750 still isn't printing, then it's possible that there is a problem with the printer itself. In this case, you'll need to contact Epson customer support for further assistance.
Conclusion
You are now aware of the cause of why the Epson ET-2750 printer is not printing color and how you can troubleshoot all the issues. Follow the instructions carefully. Do not rush. Find the problem first, then look for a solution.
Look at other Troubleshooting Guide