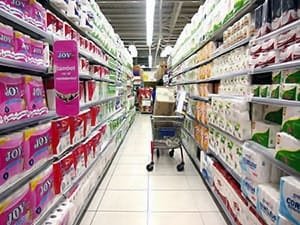 Different types of Paper towels can be seen in every household and washroom. When Arthur Scott introduced the disposable paper towel in 1932, no one had any idea how well-known and frequently used it would become.
Paper towels can easily remove any stubborn spots. We do not have to bother with washing the linen napkins that we would have used instead.
Unlike cotton cloths, paper towels are disposable and designed to be used just once. This feature makes them a good alternative for individuals who want to prevent allergies and infections.
Because the paper towels are loosely weaved so water can flow through them regardless of their gravity, that's why they are great absorbents.
Paper towels are commonly seen in restrooms and dining areas. But they may also be employed like traditional cloth sheets for wiping hands, cleaning screens and glasses, dusting, and removing messes.
With time manufacturers have introduced different types of paper towels for specific purposes, creating confusion while buying the preferred type. That's why here we will explain the different types of paper towels available in the market and help you to purchase your desired one!
Types of Paper Towels
1. Lint Free Paper Towels
Lint free paper towels have very good absorbency compared to traditional towels. These have a higher storage ability due to their composition. The more thicker Lint free paper towels mean the more absorbency.
These paper towels weigh more than traditional paper towels. This is because these are commonly manufactured for rough use and activities requiring a lot of cleaning.
Good quality things come with a good price and the same goes for these paper towels. They cost around $20 to $45 depending on their size, roll numbers in a packet, quality, etc.
PROS:
Absorbs quite well.
Can be used with harsh products.
Exceptionally well-suited to mechanical wiping tasks.
CONS:
Weighs more than usual
Pricier
Careboree Extra Thick Dry Wipe: Best Lint Free Paper Towel
Important Features:
Brand: Careboree
Item Form: Dry wipes
Scent: Unscented
Material Type Free: Alcohol Free, Chemical Free, Paraben Free
Skin Type: All
2. Paper Towel for windows and windshield
These paper towels are specifically made for cleaning windshields and windows glasses. 2-ply towels are preferable to do this job.
Traditional paper towels tend to leave paper scraps on the window after cleaning, but this does not happen with these paper towels.
These paper towels are highly absorbent, long-lasting, and layered to improve the cleaning process. They are even sturdier than conventional paper towels.
Preferred brands are Kimberly-Clark, Interstate, Georgia-Pacific, etc.
PROS:
Highly absorbent
Gives streak-free finish
Affordable
Moisture-resistant
CONS:
May produce small scratches on the surface if not used properly.
Best Paper Towel for windows and windshield: Pacific Blue Basic S-Fold 2-Ply Windshield Paper Towels
Important Features:
Brand: Georgia-Pacific
Size: 9 Packs/Case
Color: Blue
Material: Paper
Item Dimensions: 17.38 x 15 x 9.5 inches
3. Recycle Paper Towels
These paper towels come in various sizes and densities to use this towel for various purposes.
These papers are biodegradable since they are made from recycled pulp and cotton. If they are disposed of properly in the landfill, then it will take 18 months to degrade. Therefore, it will produce a bit amount of waste.
You can use Recycle Paper Towels for any purpose, like normal paper towels. Unlike toilet tissue, they don't contain any lint, so that's a plus point!
PROS:
Sustainable and biodegradable
Multifunctional
Uses renewable resources
Produces negligible waste
CONS:
One nasty napkin can contaminate the entire batch of recyclable paper towels.
Best Recycle Paper Towel: Seventh Generation Paper Towels
Important Features:
Brand: Seventh Generation
Size: 6 Count (Pack of 4)
Color: White
Material: Paper
Item Dimensions: 15.3 x 10.2 x 11 inches
4. Multifold Paper Towel
Multifold paper towels, also known as Z fold paper towels. Its design makes it easy to grasp, dry, and use in the restroom at residence or the workplace.
We don't need to tear the pleated rolls only we just need a piece or two, which helps to decrease wastage.
Multifold towels, or Z-fold, offer an additional fold that produces a "Z" shape. These are given out one by one.
PROS:
Time-saving
Soft and resilient
Unique permeability spaces quickly absorb water.
Lightweight
CONS:
When pulled, they are prone to ripping.
Best Multifold Paper Towel: Scott Essential Multifold Paper Towels
Important Features:
Brand: Scott
Size: (16 Packs of 250)
Color: White
Material: Paper
Item Dimensions: 28 x 13.25 x 9.5 inches
5. Guest Bathroom Paper Towel
These paper towels are specially made for guests to be used in the restroom when they visit a house or in luxurious hotels and restaurants.
These are far more sanitary and conveniently available, so the host needs less time to clean.
Their size allows them to be stacked beside the sink without taking up space.
Guest bathroom paper towels are also great for en-suite and guest restrooms, where they use to dry the face after a rapid rinse.
PROS:
Adds luxury to the washroom
Easy to access
Takes up less space
Helps to dry off easily after a wash
CONS:
It can be rough at times if the cheap quality is used
Best Guest Bathroom Paper Towel: Ideal Home Range 32 Count 3-Ply Paper Guest Towel Napkins
Important Features:
Color: Gold
Material: Paper
Brand: Ideal Home Range
Ply Rating: 3-Ply
Unit Count: 32 Count
6. Absorbent Paper Towel
Absorbent paper towels are composed of cellulose which components are found in plants.
Cellulose can attract water molecules which makes them suitable for making paper towels.
Absorbent paper towels can absorb sufficient liquid spills compared to normal toilet paper.
They can be easily disposed of and are biodegradable since they are made from plant materials.
PROS:
Biodegradable
Highly absorbent
Multifunctional
Available in different sizes
CONS:
Cannot be recycled
Consequences in deforestation
Best Absorbent Paper Towel: Bounty Select-a-Size 2 x More Absorbent Paper Towels
Important Features:
Brand: Bounty
Size: 2 Count (Pack of 1)
Color: White
Material: Paper
Item Dimensions: 11.4 x 5.6 x 10.4 inches
7. Kitchen Paper Towel
You can wipe your hands clean glass and other dusty areas. And also, wipe up messes in the same way like other traditional towels do. Basically, it helps to clean around here and there while cooking or doing other chores.
PROS:
Absorbs water
You can use it to dry your hand
Can use it for dusting purposes
CONS:
Small lints can be present after cleaning
Best Kitchen Paper Towel: AmazonCommercial 2-Ply White Adapt-a-Size Kitchen Paper Towels
Important Features:
Brand: AmazonCommercial
Size: 12 Rolls
Color: White
Material: Paper
Item Dimensions: 19.5 x 14 x 11 inches
8. Organic Paper Towel
These eco-friendly paper towels avoid using up trees, water, and other chemicals to make a sustainable product. These can be reusable paper towels, sugarcane, or bamboo paper towels. Using these to make paper towels do not require too much water and chemicals. They also produce 0% waste and do the same thing as traditional paper towels.
PROS:
Sustainable
Biodegradable
Organic
Environment friendly
Absorbent
Multifunctional
Best Organic Paper Towel: Recycled Unbleached Eco Paper Towels
Important Features:
Brand: Upper Midland Products
Size: 250 Count (Pack of 4)
Color: Kraft
Material: Paper
Sheet Count: 1000
9. Soft Paper Towel
These paper towels are clean like cloth. They have a super soft and smooth texture. They are long-lasting like clothes and can be used for both dry and wet purposes. When wiping down spills, these don't rip or lose their freshness.
They can be rinsed multiple times and cleaned using the same Paper Towel each round. In addition, use only one paper towel instead of several paper towels to clear up a single mess.
PROS:
Soft and smooth
Highly absorbent
A single paper towel can do the job
CONS:
Takes time to come off after pulling it from the roll.
Best Soft Paper Towel: Papernet 410074 Heavenly Soft Paper Towel
Important Features:
Brand: Sofidel
Color: White
Material: Paper
Unit Count: 6.0 Count
Ply Rating: 2-Ply
Things to Consider Before Choose Any paper towels
While purchasing paper towels, we should thoroughly look at some obvious factors to ensure they do their work efficiently. These are some features individuals should look at in any paper towels:
Durability:
While buying paper towels, we have to consider how strong they are. Good quality paper towels can withstand rough use and easily clean any mess without tearing it apart.
Size:
11 inches by 11 inches square is the standard size of a commercial paper towel. Incisions in certain paper towels make it easy to separate them into 11-by-5.5-inch segments. A normal roll of 2-ply content paper towels comprises at least 100 pieces.
However, sometimes paper towels can be larger or shorter in size depending on the purpose of their manufacturing.
Design:
The designs are usually layered on paper towels. The more folds they have, the more paper towels can absorb.
The imprinting of designs and patterns makes the paper towels attractive and maximizes absorbency.
Eco-friendliness:
Eco-friendly paper towels not only decrease the use of plants but also reduce waste to zero percent. They are biodegradable and therefore produce zero wastage. Moreover, no harsh chemicals are needed while manufacturing them. They use renewable materials and minimize water wastage during their production.
Price:
Good quality paper towels cost more than the traditional ones because they need more processing and have outstanding features. Price also depends on the sizes and types of paper towels.
Benefits of Using paper towels
They are very good at absorbing any kind of spills.
Also, convenient and can be used at any time.
There is no hassle of any washing because paper towels are disposable, which helps to save your time.
Paper towels are made from plants and other organic substances. Therefore, they are sustainable and eco-friendly.
You can use paper towels in the kitchen, washroom, hotel, office, and various other places for drying hands, wiping the face, cleaning a mess, dusting, etc.
Frequently Asked Questions
Q1. Which paper towels are the most absorbent?
Ans: "Bounty" has continuously led the market for a long time because of its absorbency, and its patchwork designs are diverse, which provide a large surface area for absorption.
Q2. Which paper towel is strongest?
Ans: Bounty is the strongest paper towel. Every sheet in Bounty is long-lasting, soft, and denser than other paper towels.
Q3. Are paper towels more absorbent than toilet paper?
Ans: Yes, Paper towels are more absorbent because they are loosely woven to allow more water to be trapped inside them.
Q4. What is more expensive, paper towels or napkins?
Ans: Napkins are more expensive. They're made of better quality paper and have gone through more procedures than roll paper towels. The majority of napkins are pleated twice and packed at accessible dimensions.
Q5. Why do Americans use so many paper towels?
Ans: They don't like to wash rags and clothes more often since it's time-consuming and too much work for a spill or cleaning. Moreover, they can afford to buy paper towels whenever they want.
All these paper towels have amazing features. It depends on the individuals which one they want. While buying paper towels, evaluate what you require in a paper towel for a few moments. You'll find the option that suits your requirement.
More Related Buyers Guide: