Towels are the most crucial item in our day-to-day life, especially when we have guests over at our place. It's common courtesy to hang towels over, near basins, or in the bathrooms. To hang towels, we most often use towel rings.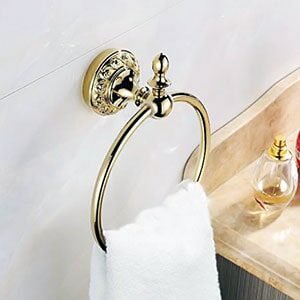 Towel rings are a common bathroom accessory. These are round hoops where towels are hung. They're designed to accommodate small towels like hand towels. Towel rings should be placed near the sink so that they are easily reachable. This will save our visitors from splattering water all over the place after they've washed their hands!
Sometimes towel ring placement can be faulty or can loosen after using it for a long time. Other issues may arise, such as the necessity for using multiple towels. In cases like this, there is only one solution: the removal of the towel ring.
Now you might want to know how to remove a towel ring, right? You do not need to worry as we have already investigated this matter thoroughly and are ready to help you guide!
If you are someone who likes to spend most of the time in the gym then you may like to read our recommended 10
Best GYM Towels For Sweat
with reviews.
Basic Scenario
Towel rings are not connected in the same way that towel bar holders are, where the fixed screw may be unscrewed and removed. Rather, they have a concealed screw or a spring that keeps them in place. If this is not the case, the ring has basically adhered to the surface with a firm, sticky sealant.
Depending on how the towel rings are fastened, there are three options for removing them. If we can access the concealed screw, it can be removed using a tiny screwdriver. If it is glued to the wall, we can use a chemical solvent; or use our force to pull it off, applying a strategy.
How to Remove a Towel Ring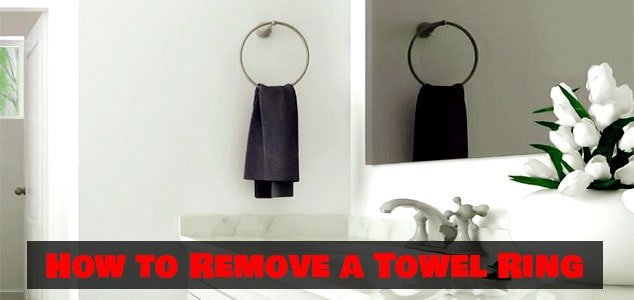 As previously stated, based on how one's towel ring was attached or, specifically, the kind of towel ring, if it was mounted with a screw, sticky glue, or spring, there are three methods to detach it.
Look For the Concealed Screw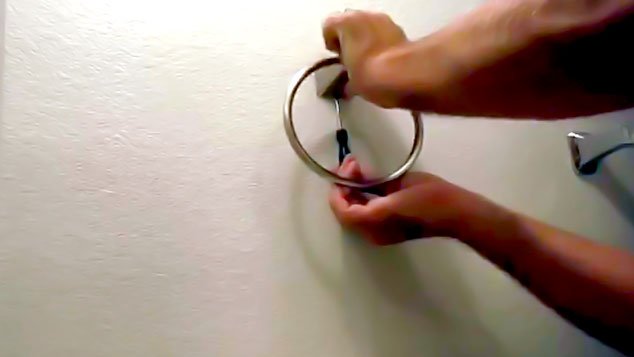 The first method can be to look for the concealed screw. Typical towel ring holders do not have fixed screws compared to bar towel holders. Some towel rings, on the other hand, feature a concealed screw. We can remove it if we can find the concealed screw. Allen key screws or screws of equivalent dimensions are used in most towel rings. They're rather little.
A tiny screwdriver is all that is required to detach this concealed tiny screw. Using the screwdriver, pull the ring apart. Although it involves little work, this procedure takes a long time since we must locate the little screw in the towel ring.
Examine the foot post's backside where it joins the restroom wall. A little round opening with a concealed screw within is what we're searching for. If we come across a hole, we'll use a torch to figure out what kind of screw was used. An Allen wrench or a tiny Phillips tip screwdriver is often used to remove screws.
Utilizing a Solvent
Despite struggling to find concealed screws with our lighter, it's safe to assume the developer attached our towel ring with adhesive. To get rid of it, we'll need a solvent, such as Goo Gone. Goo Gone array of items, specifically designed with Citrus Strength, conveniently sanitizes spots and gooey residues throughout our house. Glue, coatings, oil, filth, and others are all removed.
Apply this to loosen the sticky patch or glue on the towel. Apply this to loosen the sticky patch or glue on the towel. After that, stroke backward and forward with anything thin but firm, such as dental floss. Pretty soon, the ring should be loosened. Finally, attach it for a few moments before removing it.
Applying a Simple Strategy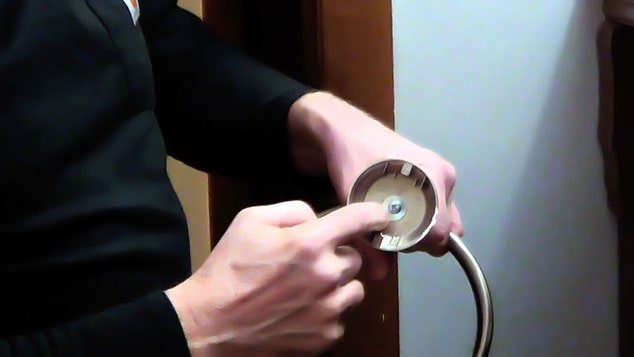 This procedure is only applicable to towel rings that are held in place by a spring. This is advantageous since we won't have to waste time hunting for a concealed screw, nor will we have to spend money on a solvent. This is the most straightforward method for detaching a towel ring.
To remove this sort of towel ring, we need to pull it out from the base and tilt it in the front. After that, drag it in the downward direction, and we are done!
Final Word
These three basic and simple ways will help you detach your unwanted or faulty towel ring. We can quickly uninstall our towel ring based on the way it was put. Make sure to use the instructions properly. By giving our restroom equipment some additional attention, we can create a useful and elegant environment. After all, that's the whole point of the endeavor.