As you know shrimp is very tasty and healthy too. Today we will share two delicious healthy shrimp recipes one is Grilled Shrimps with Peppers and other is Garlic & Shrimp paste in cream sauce
Healthy shrimp recipes
Grilled Shrimps with Peppers and Garlic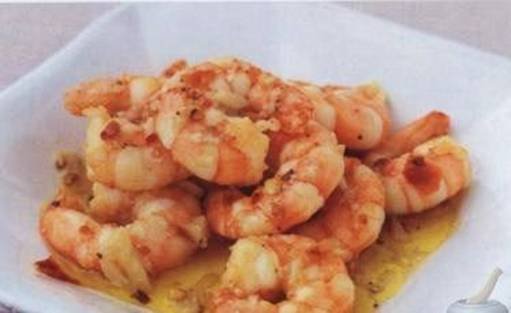 Grilled shrimps with garlic and pepper is a great snack! You can fry both peeled and unpeeled shrimps, but in this case do not forget about napkins.
Ingredients
Shrimp 250 Gram
Garlic 20-30 Gram
Red hot pepper 2-5 Gram
Olive oil – 50-60 Gram
Dry wine 15-20 Gram
Salt
Ground black pepper to taste
Making of Grilled Shrimps with Peppers and Garlic
Thinly chop the garlic.. Fry the garlic with red pepper, stirring for about 1 minute. (The amount of pepper and garlic can be changed to your liking.)
Add wine and shrimps to the pan, increase the heat and cook, stirring occasionally for 3-5 minutes (fry shrimps for five minutes).
Add salt and pepper as your taste
Fried shrimp with garlic and pepper can be served, for example, with a green salad.
Shrimp paste in cream sauce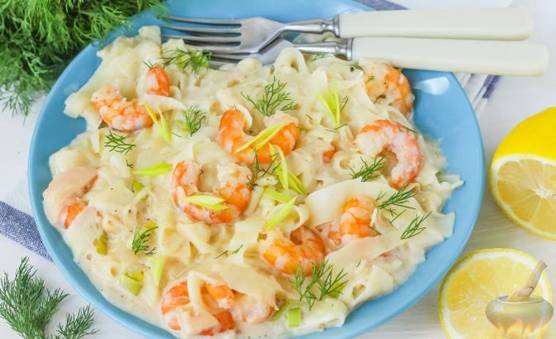 This tasty and juicy dish can be prepared within 10 minutes. Shrimp pasta  in cream sauce will be a great dish for your guests.
Prepare the necessary ingredients for pasta with seafood. Shrimps recipes get freshly frozen, large, with bright shells and a minimum amount of ice on them.
Do not purchase "bleached" seafood in an ice shell – this means that they have been repeatedly defrosted and frozen. Thaw them in warm water or at room temperature. Pasta can use any.
Ingredients
Shrimp – 200 Gram
Pasta – 2-3 balls
Cream 15% – 150 m
Leek – 0.5 pc
Butter – 50 Gram
Vegetable oil – 0.5 tsp. (for cooking pasta)
Salt – to taste
Ground black pepper to taste
Parmesan cheese
Fresh greens
Preparation of pasta with shrimps in a creamy sauce recipe
In a small amount of salted water with the addition of 0.5 tsp. vegetable oil boil pasta for 5-7 minutes, but not more so that it does not boil soft. Oil will not allow the paste to stick together.
At the same time, clean the Shrimp from their shells, rinse them in water. Melt the butter in a pan by placing it on the stove. Add peeled shrimps to the butter and fry for about 2-3 minutes.
Slice the green part of the leek and add it to the shrimps, stew for 1 minute and cover with cream. Pour salt and ground black pepper, stew shrimp in cream for about 2 minutes.
Add boiled pasta and stir for another minute on minimal heat.
Put the pasta with shrimps in a creamy sauce on a plate, if desired, sprinkle with chopped Parmesan and garnish with fresh herbs.
Thanks And
Enjoy Your Meal.!!
For more click here 😉