About Drumma Boy
Born as Christopher James Gholson, Drumma Boy grew up in Tennessee as the son of Billie Baker Gholson and G. James Gholson. Both his parents have a musical influence towards D-Boy Fresh, training to be the rapper he is now. His father was the first African-American to be the highest chair member of the Memphis Symphony Orchestra until today. His mother was a part-time opera singer.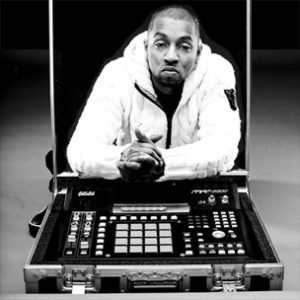 With such incredible achievements, Drumma Boy grew up learning various classical instruments. He was kicked out of the university due to his under-attendance, although he was a genius with good grades. Eventually, he did not saw the importance of attending classes when he's already earning more than $20,000 every month.
His parents believed in a stable lifestyle with proper degrees and financial knowledge. But Drumma Boy took the challenge to prove that in 10 months and his father ultimately agrees and together, established a foundation to increase awareness of education and literature in music.
Fast forward, Drumma Boy became a producer, rapper and composer with incredible achievements in gaining Best Indie Producer of the Year for 3 consecutive years. He is also one of the four Best Producers in Urban Music from Atlanta, producing some of the hottest, raging music for Flo Rida, T-Pain, Gucci Mane, Gorilla Zoe, Snoop Dogg, and even more famous artists.
He grew up as a classical kid, but influenced by the trend of artists around him, he managed to blend in the beauty of everything, creating beats that could not measure up to others. In 2009, with his single "Put On"feating Kanye West & Young Jeezy.
The song hit the Billboard Top 200 and various other billboards, garnering profits with more than one million copies sold. T.I.'s album, Papertrail, was also peppered with Drumma's works which gained a position in "Best Rap Album". He was also responsible for the #1 single, "What Up".
Drumma easily made the trend that the whole world is absorbed in. He made the dab song and everyone was soon dabbing. That was a fad that we'll all remember for quite some time. Drumma Boy isn't just a rapper, he's now interested and is investing in cryptocurrency as well.
Drumma is famous for being a trap producer, but his beats were actually well accepted by people outside the ring. He's now working with YoungBoy, Young Greatness,andLeeky Bands. There are more and D-Boy Fresh isn't stepping down at the age of 35.
He doesn't stop at creating music and rapping as well as working and collaborating with many different artists. Last year, he opened a boutique that used to be something he'd do out of his own trunk. The store is called House of Fresh and it's a house that many rappers have given a visit already.
Drumma Boy also recently went on a dispute with R. Kelly for plagiarism. "Salute" track had beats that sound similar to T.I. "You Ain'tMissin' Nothin'". And we want to send our condolences to his recent loss of his brother who is also a veteran producer, Ensayne Wayne.
Let's hope for the best and wait for his newest releases this year!